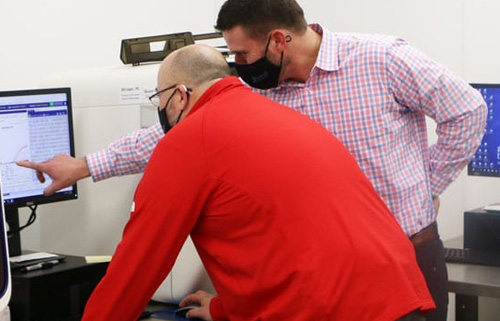 By Paul Swiech
Pekin, IL— When Reditus Laboratories processed its one millionth COVID-19 test recently, there was no time to mark the occasion.
"At the time we did it, we were so busy that no one paid attention to it," said Dr. Larry Rossi, president of Pekin-based Reditus and a practicing physician in Central Illinois for more than 40 years. "We did it and we moved on."
While processing one million COVID tests at the Reditus lab in Pekin between April and Nov. 26 sounds impressive, testing continues and was up to 1,155,000 tests as of Dec. 16.
Still, the focus at Reditus is not the numbers, said Dr. Aaron Rossi, the Reditus CEO who directs the company's daily operations.
"It boils down to the people you have around you, providing quality results and not just quantity," Aaron Rossi said.
The numbers are possible because Rossi ordered, in late winter, equipment that, coincidentally, is the gold standard for diagnosing COVID. Since then, Reditus has ordered more equipment, hired additional employees and signed contracts to provide COVID specimen collection and testing.
Larry and Aaron Rossi, who are father and son, also are president and CEO, respectively, of PAL Health Technologies, an orthotics fabrication lab based in the same building as Reditus. Aaron Rossi, who had operated an orthopedics practice in Bloomington, purchased PAL Health, a long-time orthotics lab that had closed, and reopened it in April 2018. He describes it as a full-service lab that fabricates custom orthotics, ankle-foot orthotics and custom diabetic accommodative orthotics.
"He was looking into other services for the podiatry business," Larry Rossi said. "There was a need to rapidly diagnose soft tissue and wound infections. The PCR (polymerase chain reaction technique) is a means to do it rapidly. It uses the genetic RNA from the organism to identify the bacteria or virus."
"I decided to start a lab because…there's a lot of opportunity," Aaron Rossi said. "I wanted to do PCR. No one had a PCR machine within 250 miles of Pekin."
The lab opened in June 2019, which marked the start of Reditus. "It started as a histology lab for podiatrists," Larry Rossi said. Histology is the study of the microscopic structure of tissues.
"Reditus is a full-service dermatopathology lab, with a heavy focus on molecular diagnostics," Aaron Rossi said.
Reditus received its first PCR machine just before COVID hit Illinois in February 2020.
"The PCR is the gold standard for diagnosing COVID," Larry Rossi said. "Serendipitously, it worked out. He was ready to roll with the equipment."
"I created a business plan, pivoted and within four weeks we had validated the assay and were approved to start processing samples," Aaron Rossi said.
The Reditus lab in Pekin has grown from one PCR machine to eight and from doing 500 to 600 tests a day to 15,000. The number of Reditus employees has grown from 10 to about 200 as staff was added to test patients and process results.
Meanwhile, the PAL Health side was able to keep most of its employees and hire 75 temporary workers even as podiatrists saw fewer patients, meaning they ordered fewer orthotics. That's because PAL Health pivoted, temporarily, to make face shields. The podiatry business, which has 70 employees, has been recovering recently and has returned to its pre-pandemic levels.
"PAL Health is back to our pre-pandemic levels and it is important to give credit, to not only Aaron's vision to pivot, but our many PAL employees that adapted to a new form of manufacturing," said PAL Health Technologies Executive Director Matt Blackford. "They were able to adapt and achieve what some say was a miraculous feat. There were days when we still had to fulfill orthotic orders for our doctors but also make thousands of PPE (personal protective equipment) for frontline workers. It was an extraordinary undertaking and our hats are off to all who helped pull this through."
"Aaron was on the ground floor of PCR testing" so was able to establish significant relationships with companies that supply the equipment, Larry Rossi said.
In addition, Reditus was able to find people to do the work. That includes Dr. Joshua Geltz, a molecular virologist, who is Reditus Laboratory Chief. Until he joined Reditus recently, Geltz was chief virologist for the Illinois Department of Public Health (IDPH) lab in Springfield, supervising the clinical molecular detection of COVID.
"I saw an opportunity to expand testing and more directly impact patient care through development of new assays with more effective processes than available at other laboratories," Geltz said.
Reditus receives specimens for testing from 320 accounts, including Illinois Department of Corrections (Reditus collects and tests specimens from employees and offenders), from IDPH, Rivian Automotive, UnityPoint Health and from Illinois State, Illinois Wesleyan, Eastern Illinois, Bradley and Western Illinois universities.
Reditus staff also facilitates COVID specimen collection throughout the state, including for the Department of Corrections staff and offenders, for Smithfield Foods nationwide and at several community-based testing sites, including in McLean and DuPage counties.
"Our average turnaround time, from when the specimen hits the lab, is 16 hours," Aaron Rossi said.
Reditus processed its one millionth test during the late-November COVID surge so the milestone came and went without public notice. And the testing and processing continues with 1,155,000 COVID tests processed as of Dec. 16.
"It was definitely an accomplishment," Aaron Rossi said of processing more than one million tests in eight months. "Being able to provide the community with the gold standard, the most accurate PCR test, in a rapid fashion was a tremendous accomplishment."
"Aaron has been entrepreneurial with this but he also has been generous, providing free testing for Peoria Public Schools District 150 and grants to Bradley University," Larry Rossi said. "He believes this is an important function in patient care."
Reditus will continue to think out of the box. It's next step, in just a few weeks, will be offering a multiplex, which tests for influenza A and B in addition to COVID, Aaron Rossi said.
"So you will get three results instead of one," he said.
Reditus Laboratories (redituslabs.com) is a full-service dermatopathology laboratory company with a heavy focus on molecular diagnostics.
PAL Health Technologies (xtremity3d.com) is full-service lab that fabricates custom orthotics, ankle-foot orthotics and custom diabetic accommodative orthotics.
###
If you would like to schedule an interview with Dr. Aaron Rossi, please call Kristen Vroman, his executive assistant, at 309-336-4104, or email [email protected]
---
https://redituslabs.com/wp-content/uploads/2021/11/pcr_analysis.jpg
321
500
5-Point Admin
https://redituslabs.com/wp-content/uploads/2022/10/logo.webp
5-Point Admin
2020-12-18 18:24:00
2021-11-24 20:14:11
Reditus Laboratories Processes More Than 1.1 Million Covid Tests