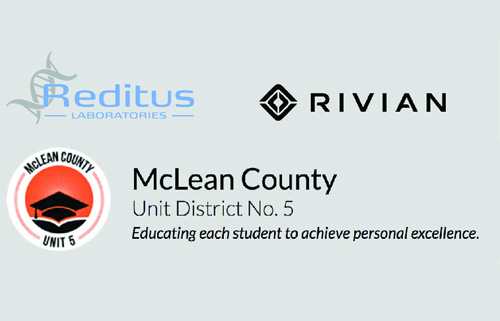 Media Inquiries:
Dayna Brown – Unit 5 – [email protected]
Dr. Aaron Rossi – Reditus – [email protected]
Kristen Vroman – Reditus – [email protected]
Zach Dietmeier – Rivian – [email protected]
---

Unit 5 schools will receive $1 million in onsite COVID testing, thanks to the generosity of two local businesses.
Rivian and Reditus Laboratories have partnered to provide this much needed service to Unit 5.
"The convenience and timeliness of providing onsite testing for our staff and students will help Unit 5 better monitor and control the spread of COVID in our schools," Unit 5 Superintendent Kristen Weikle said. "We are extremely grateful for the generosity of these two partners."
Rivian donated $500,000 to Reditus Laboratories in Pekin for COVID testing and Reditus matched that amount, meaning that $1 million in testing, or 9,000 tests, will be available specifically for Unit 5 students and staff at cost to the district, said Reditus CEO Dr. Aaron Rossi.
"I am a McLean County resident and my wife and I have four school-age children," Rossi said. "So, we know firsthand the challenges of remote learning. It's a tremendous hardship on the family. Everyone's goal is to get the children back into the school buildings."
Reditus is a full-service dermatopathology lab, with a heavy focus on molecular diagnostics, and has processed 1.25 million COVID-19 tests since April. Among locations where Reditus facilitates COVID specimen collection is the McLean County Fairgrounds in Bloomington. Rossi said he hopes that the increased testing will help more students to return to in-person learning when it's safe to do so.
"We are a community-based organization and this is our way of giving back to the community," Rossi said.
The logistics of the testing will be determined in the coming weeks.
Rivian became involved in mid-November after a community spike in positive cases forced the district to return to all-remote learning.
"The impacts of the pandemic have been hard on the whole community this year, and we wanted to do something to show our support for families and teachers," said Zach Dietmeier, Rivian Plant Communications and Policy Manager.
Rivian began offering onsite testing for all employees last week, and the successful implementation at the plant opened an opportunity to share with the community.
"We are very humbled by all of the support Unit 5 has shown us during our time in Central Illinois, and it was important to do whatever we could to support them," Dietmeier. "We hope this increased testing benefits the students, faculty and staff by allowing them to come back together very soon."
Rivian is developing all-electric adventure vehicles, technology and services that inspire people to get out and explore the world. Rivian has development centers in Arizona, California, Michigan, Vancouver, and England; along with a 3.3-million-square-foot manufacturing plant in Normal, Ill. Rivian will launch its products in the US in 2021.
Media Inquiries:
Dayna Brown – Unit 5 – [email protected]
Dr. Aaron Rossi – Reditus – [email protected]
Kristen Vroman – Reditus – [email protected]
Zach Dietmeier – Rivian – [email protected]
---
---
https://redituslabs.com/wp-content/uploads/2021/11/partnership.jpg
321
500
5-Point Admin
https://redituslabs.com/wp-content/uploads/2022/10/logo.webp
5-Point Admin
2020-12-23 18:27:00
2021-11-24 18:28:41
Local Companies Partner To Provide $1 Million in Onsite COVID Testing For Unit 5 Schools