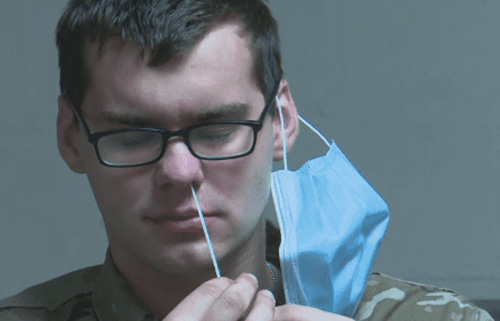 PEORIA (WEEK) – A little taste of normalcy is on the way as Peoria Public School students plan to head back to the classroom. The game changer … better access to priority testing.
Superintendent Dr. Kherat said a big reason for the accelerated return to class is the ability to rapidly test students. Thanks to a $200,000 gift from the Bob Gilmore Foundation, the district will have the capability to test students randomly as well as those who are symptomatic.
The lab running those test will be Reditus Laboratories in Pekin.
Reditus has been on the front lines of the pandemic since widespread testing became available.
"There's no textbook on COVID so this is a learning process and being able to be flexible and pivot when you need to." said CEO Dr. Aaron Rossi
While they currently serve a number of state and local entities their newest client will be PPS.
During Monday's school board meeting, Kherat presented an updated plan to get more students back in class.
The new plan is as follows:
Grades 2-4: October 26/27 with A/B schedule.
Grades 5-6: November 4/5 with A/B schedule.
Grades 7-8: November 9/10 with A/B schedule.
Grades 9-12: January 5/6 with A/B schedule.
Reditus' CEO, who is a Richwoods graduate, said the results for PPS will be prioritized.
The plan, according to Rossi, is to get all results out in less then 24 hours. He said they average at around 11 hours, but said it could be less. On Monday Dr. Kherat said the test results could come back in as little as 4-6 hours allowing for drastically reduced quarantine time.
It will be the PCR nasal swab test. Specificlly the mid-turbinate swab that goes half way up your nasal cavity.
While the rapid saliva tests have been getting recent attention, Rossi said he will not compromise quantity for quality.
"We're doing about 8,000 to 8,500 tests per day, continuously increasing capacity so the (PPS) volume and number of tests per day is very manageable and we are making sure that results are out in appropriate timely fashion. Then we utilize a portal and software to get them all the information they need on their end." said Rossi
Public Health Administrator Monica Hendrickson said mixture of testing symptomatic and random students is very useful in school age kids.
"The zero to nine population, even inching into the 10 to 18 are really showing very very mild symptoms, almost being asymptotic. So your surveillance based testing as it's called is going to capture those individuals you're then getting to understand what the level of virus is in the community." said Hendrickson
In the next few weeks PPS said they will be figuring out the logistics of who will administer the tests and where they will take place as well as other details.
---
Source: week.com
https://redituslabs.com/wp-content/uploads/2021/11/nasal_swab.jpg
321
500
5-Point Admin
https://redituslabs.com/wp-content/uploads/2022/10/logo.webp
5-Point Admin
2020-10-19 18:19:00
2021-11-24 20:12:26
COVID-19 Testing: The lab behind Peoria Public Schools return to the classroom