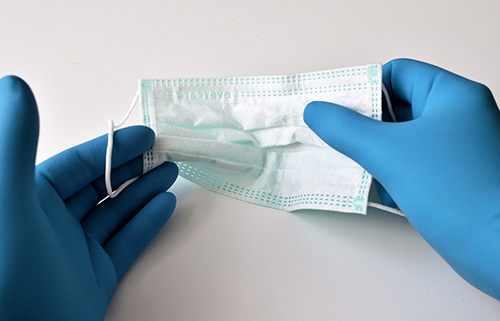 A Central Illinois laboratory that performs COVID-19 testing wants to help businesses to comply with the new federal COVID vaccination or testing mandate while causing as little disruption to the businesses as possible.
"Our approach to businesses is 'We know this was sprung on you. We're here to help,'" said Colton Moore, national key accounts manager for Reditus Laboratories. "We're partnering with local businesses to create an efficient and cost-effective model."
President Joe Biden recently announced wide-ranging new federal COVID vaccine and testing requirements to curb the surging delta variant. Among the requirements is employers with 100 or more employees must require them to be vaccinated for the virus or tested weekly. That would affect about 80 million Americans.
Since April 2020, Reditus Laboratories has performed more than 3 million COVID-19 tests, which have helped to keep safe people from all walks of life. Testing is vital in the fight against COVID because people who test positive can immediately isolate at home and their close contacts can quarantine, reducing the spread of the virus.
Some businesses are waiting for a final word as to whether the federal mandate is legal. Legal experts have said that private companies may mandate vaccines for their staff members, as long as there is an exemption for medical or religious reasons. The mandate calls for vaccination or weekly testing.
Moore said his approach to businesses is direct. "I tell them, 'I work for Reditus and here's what we do.' For businesses that decide to go forward with weekly testing, we're hoping to cause as little disruption as possible," he said.
Moore said businesses may choose from among three testing options. First, Reditus employees may come to a business to collect nasal specimens from employees. Second, employees may collect their own nasal specimens and leave their specimens in a lock box, where Reditus couriers will collect samples each day and return them to the lab in Pekin for testing.
The third option, which is ideal for employees who work remotely, will be for employees to use the Reditus FluV19 Convenience Test Kits, which test for COVID and Influenza A and B. The kit allows people to collect their nasal specimen and overnight the sample to Reditus. More information is at www.redituslabs.com/fluv19-convenience-test-kit/.
With all options, employees may access their results using a secure online portal.
"There is a lot uncertainty right now," Moore said. "Our approach is 'This is what we do.' We're a local lab and we're here to help. We can do the testing quickly and safely and the results will be accurate."
Businesses interested in more information may contact Moore at [email protected]. https://redituslabs.com/employer-corporations/
https://redituslabs.com/wp-content/uploads/2021/11/voting.jpg
321
500
5-Point Admin
https://redituslabs.com/wp-content/uploads/2022/10/logo.webp
5-Point Admin
2021-09-20 00:13:00
2021-11-25 00:13:55
Reditus wants to help businesses to comply with testing mandate