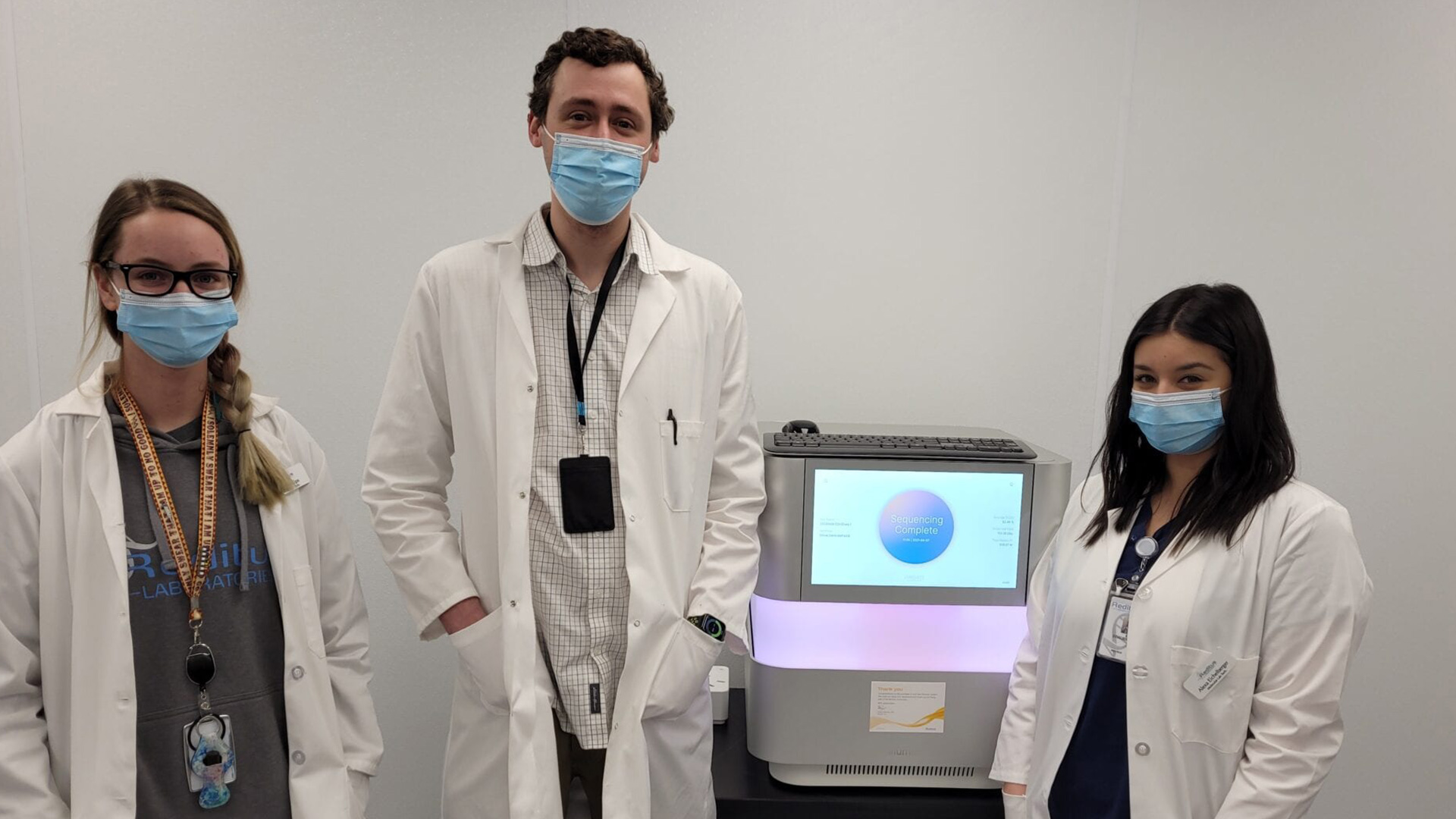 PEKIN, IL – Technology that Reditus Laboratories is using to help to track the spread of COVID-19 variants could be used in the future to assist physicians in treating other diseases.
Reditus scientists began using Next Generation Sequencing (NGS) technology in March. Using the Illumina NextSeq, Reditus scientists prepare and load sample DNA into the instrument which then sequences the DNA of each sample which is used to determine the configuration of individual bases in each sample's DNA molecule. The sequence informs scientists about the genetic information carried in a sample's DNA.
"In the world of diagnostics, it's the cutting edge," said Dr. Mike Sgambelluri, Reditus Laboratories research scientist. "The technology is rarely found outside of large research institutions or well-funded government labs."
"There's a lot you can do with the technology," Sgambelluri said. "We're currently using it to assist the Illinois Department of Public Health and Southern Illinois University in sequencing SARS-CoV-2 (COVID-19) for tracking the spread of variants, especially those with mutations that may have implications for disease severity or vaccine evasion…We're providing surveillance information about certain strains that could be problematic for immunizations."
Reditus performs random sequencing of its COVID-19 positive specimens rather than all of them.
"Since we want our sequencing results to represent an unbiased reflection of SARS-CoV-2 evolution, the samples we choose for sequencing are also random. This helps us to identify which SARS-CoV-2 strains exist in proportion to our total test population," Sgambelluri said.
While SARS-CoV-2 sequencing continues, there are numerous other clinical applications for Next Generation Sequence technology, and Reditus is looking to other applications.
"With Next Generation Sequencing, we can tell a physician which pathogen is implicated in an infection, and which drugs will be ineffective for treatment. Additionally, NGS can identify which disorders that a person is predisposed to developing later in life, the chances of passing on a genetic disease to their kids, and probably a hundred other applications that haven't even been thought of yet," Sgambelluri said.
"A sequencing assay we're currently exploring is a comprehensive respiratory pathogen panel," which includes hundreds of bacterial, viral and fungal pathogens, along with antibacterial, antifungal and antiviral resistant markers, he said.
"We have a lot of plans to validate new tests and ideas for new tests. In the next several months, I expect research and development will have exciting news to share," Sgambelluri said.
https://redituslabs.com/wp-content/uploads/2021/11/Illumina-sequencer-photo2.jpg
1080
1920
5-Point Admin
https://redituslabs.com/wp-content/uploads/2022/10/logo.webp
5-Point Admin
2021-05-03 00:04:00
2021-11-25 00:05:14
Reditus Technology Tracks Covid Variants, Will Help With Other Diseases