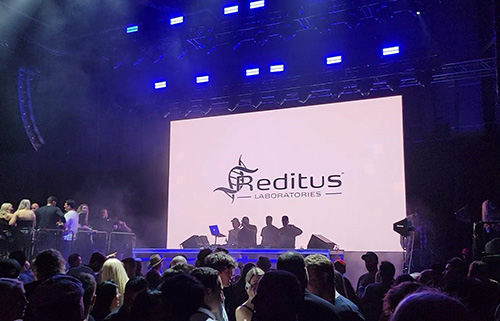 PEKIN, IL – Reditus Laboratories helped to ensure that a prestigious event happened safely by providing COVID-19 testing in Austin, Texas, recently.
Reditus partnered with event producers for The Bootsy Bellows and Sports Illustrated Circuit Series After Party on Saturday night, October 23, celebrating The Big Race weekend at the Circuit of The Americas in Austin, Texas. Additionally, Reditus partnered with event producers for Sports Illustrated Club SI, which allowed fans to enjoy the race experience at turn 12, with a 360-degree view of the track, from Friday, October 22, through Sunday, October 24.
Reditus provided COVID-19 testing for guests attending the Circuit Series After Party at the Austin American-Statesman parking lot. The event featured headliners Travis Scott and The Chainsmokers, sounds by Chase B and a set by DJ Irie. The party's atmosphere transported guests to a world that intermingles Hollywood glamour with Austin flair.
Reditus invited guests, prior to the event, to order the Reditus FluV19 Convenience Test Kits, which tests for COVID and Influenza A and B, said Wade Rossi, Reditus vice president of clinical testing. The kit allows people to collect their nasal specimen and overnight the sample to Reditus, where the specimens undergo PCR (polymerase chain reaction) testing. PCR testing is considered the gold-standard in diagnosing COVID-19, with a sensitivity and specificity of 98% or greater. Results are available to the customer within about 24 hours after the lab receives the specimens.
In addition, five Reditus specimen technicians tested guests on Friday night, October 22, and on Saturday, October 23, at their hotels and immediately before and during the party that night at the Austin American-Statesman with results available in about 15 minutes. About 250 people were tested, he said.
Reditus CEO Dr. Aaron Rossi said he was proud to provide testing at the prestigious event.
"We enjoy providing testing at events which allow artists to perform and the general public to gather and enjoy themselves as they did before COVID," Dr. Rossi said. "We enjoy creating a safe environment to allow events like this to happen."
Club SI was produced by ABG Entertainment and Circuit of The Americas. The Bootsy Bellows x Sports Illustrated Circuit Series After Party was produced by Circuit of The Americas, Uncommon Entertainment, The h.wood Group and ABG Entertainment.
Reditus Laboratories, 200 Enterprise Drive, Pekin, is a full-service laboratory. Since April 2020, Reditus has performed more than 2.7 million tests for COVID-19.
##
Reditus Laboratories is a full-service laboratory company with a heavy focus on molecular diagnostics. Based in Pekin, Illinois, Reditus provides top-tier, accurate anatomical and clinical pathology services, including cytology, histology and molecular testing. Reditus is accredited by the College of American Pathologists (CAP) and is certified by the Clinical Laboratory Improvement Amendments (CLIA) program. Additional information is at www.redituslabs.com, as well as on Facebook at Reditus Laboratories and Twitter @ReditusLabs.
https://redituslabs.com/wp-content/uploads/2021/11/event.jpg
321
500
5-Point Admin
https://redituslabs.com/wp-content/uploads/2022/10/logo.webp
5-Point Admin
2021-11-02 20:00:00
2021-11-24 20:00:25
Reditus Provided COVID Testing at Prestigous Texas Event