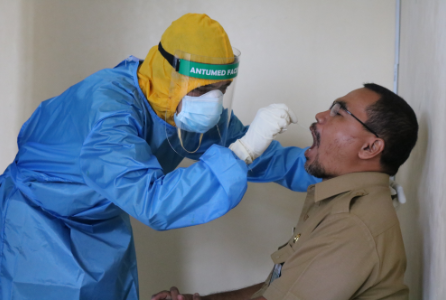 PEKIN, IL – Reditus Laboratories tested 321 randomly selected positive COVID-19 samples that were collected from March 1 through March 30, 2021, on Wednesday, April 7, 2021. The data have been analyzed and there were several trending variants identified, Reditus CEO Dr. Aaron Rossi said.
There were 124 samples that were of B.1.1.7 lineage, better known as the UK (United Kingdom) Variant; two were the South African (B.1.3.5.1) variant; 14 were the Santa Clara (B.1.4.2.7/4.2.9) variant and 16 were the Brazil (P.1) variant. The latter is believed to be the most concerning of all identified variants due to resistance of vaccines, potentially increased pathogenicity, and increased levels of transmissibility than the original strain.
The demographics of the samples from the patients with the Brazil (P.1) variant identified were from the Central Illinois area. This includes Peoria, Pekin, Morton and Bloomington.
Reditus tests nasal samples collected throughout the country for SARS-CoV-2 (COVID-19) using gold-standard PCR (polymerase chain reaction) testing. Reditus sequenced the 321 samples using the Illumina NextSeq, which the laboratory began using earlier this year.
Rossi says the samples are being sequenced to help IDPH (Illinois Department of Public Health) and the CDC (U.S. Centers for Disease Control and Prevention) collect valuable information for which variants are becoming more prevalent within our community and the country. The variants spread more easily and quickly in a population than the original strain of the virus.
"The variants are becoming much more prominent," Rossi said. "This is causing growing concern of experts and we need to identify the variants and make sure the public is aware."
https://redituslabs.com/wp-content/uploads/2021/08/HOME-16.png
300
446
5-Point Admin
https://redituslabs.com/wp-content/uploads/2022/10/logo.webp
5-Point Admin
2021-08-12 14:15:44
2021-11-24 20:21:17
Covid Variants Of Concern Identified By Reditus Laboratories