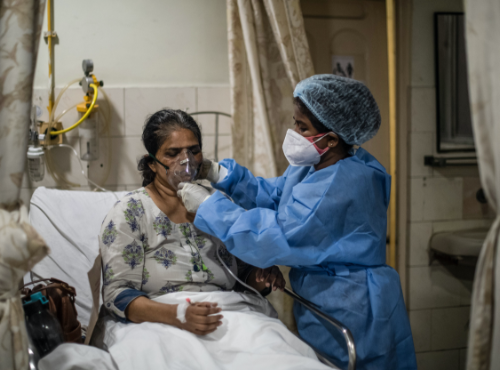 PEKIN, IL – The B.1.617 variant, commonly known as the Indian double mutant variant, has been among COVID-19 variants identified by Reditus Laboratories in Pekin.

The variant, first identified in India, is of concern because it carries 13 mutations and preliminary evidence indicates that they are potentially more contagious than previous strains of the virus. The variant, which has been found in several countries, was first confirmed in the United States on April 3.

During its latest sequencing run at its lab in Pekin, Reditus tested 371 randomly selected positive COVID-19 samples. Among the variants identified were 178 samples of the B.1.1.7 lineage, better known as the UK (United Kingdom) variant; five of the B.1.351 (South African) variant; seven of the B.1.427 (Santa Clara) variant; 153 of the P.1 (Brazilian) variant; and one of the B.1.617 (Indian double mutant) variant.
Variants are of concern because they are potentially more contagious and may have some resistance to the vaccine.
Reditus tests nasal samples collected throughout the country for SARS-CoV-2 (COVID-19) using gold-standard PCR (polymerase chain reaction) testing. Reditus sequenced the 371 samples using the Illumina NextSeq, which the laboratory began using earlier this year.
About 85% of Reditus test samples come from Illinois, said Reditus CEO Dr. Aaron Rossi. The sample of the Indian double mutant variant was collected in Bloomington-Normal, he said.
Reditus sequencing data is shared with the Illinois Department of Public Health, the U.S. Centers for Disease Control and Prevention and GISAID, a global initiative that provides access to genomic data of influenza viruses and COVID-19, Rossi said.
Rossi said his goal in sharing the latest sequencing information is simply to keep the public aware of the spreading variants.
"We're just alerting the public on what we've seen in our latest sequencing runs," Rossi said.
https://redituslabs.com/wp-content/uploads/2021/08/ABOUT-16.png
370
500
5-Point Admin
https://redituslabs.com/wp-content/uploads/2022/10/logo.webp
5-Point Admin
2021-05-19 05:36:00
2021-11-24 19:38:30
Indian double mutant variant identified by Reditus