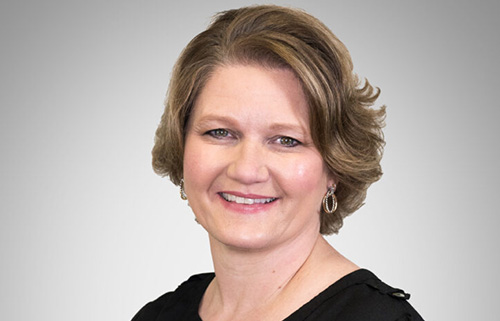 By Paul Swiech
Pekin, IL – The manager of the clinical molecular lab at Reditus Laboratories in Pekin has been recognized for her work behind the scenes during the ongoing COVID-19 pandemic.
Michelle Anderson, of Washington, has received a Lab Hero Award in recognition of her professionalism and compassion while performing clinical laboratory duties during the COVID-19 pandemic.
"I am honored," Anderson said. She said the award is special because she was nominated by colleagues.
"We appreciate that Michelle's colleagues have recognized what we already knew: that she is a hero," Reditus Laboratories CEO Dr. Aaron Rossi said. "We are proud to have her on our team. She understands that, at the heart of everything we do, is a patient."
Reditus has processed about 1.4 million COVID-19 tests in Illinois since April.
The award was presented by Michael Bishop, a lab professional for more than 40 years and the editor of a clinical chemistry textbook for lab science students since 1982.
"Laboratory people are making extraordinary efforts, like other medical professionals, but most lab people don't get the recognition they deserve," said Bishop, who is based in Saint Cloud, Fla. "They need to be recognized for their efforts."
Bishop decided in 2020 to solicit nominations because he wanted the recognition to happen during the pandemic.
"I thought it might help morale a little bit," he said.
Twenty-one clinical lab professionals nationwide were nominated by co-workers, Bishop said. A panel consisting of three lab scientists, one emergency department nurse and a non-medical person evaluated the nominees based on demonstration of extraordinary effort, improved patient care, professionalism, compassion, creativity and positive attitude.
Anderson was chosen as the winner.
"Michelle was instrumental in getting COVID testing done in that area of Illinois," Bishop said. "I'm proud of Michelle's commitment to the profession and patient care."
Anderson joined Reditus in April 2020 and became clinical molecular lab manager in August. Certified as a medical laboratory technician by the American Society of Clinical Pathology, she had previously worked for UnityPoint Health in Peoria, first as a technician in the hematology department, then as the lead of flow cytometry, analyzing tumor markers for leukemia and lymphomas.
Her career began in 1994 as a lab technician at Peoria-based OSF HealthCare in Hematology and Blood Bank.
Anderson has helped the Reditus clinical molecular lab to grow and, in doing so, has grown professionally.
"Starting a new molecular lab at Reditus during a pandemic definitely challenged me professionally," Anderson said. "I am extremely proud of what we have accomplished as a lab and what we have provided for the state of Illinois. I have an amazing team of lab professionals and administrators here at Reditus and I am excited to see how we grow post-COVID." As Anderson looks forward to continued growth, Bishop said the positive feedback that he's received means he's considering honoring lab heroes annually.
https://redituslabs.com/wp-content/uploads/2021/11/Michelle-Anderson.jpg
321
500
5-Point Admin
https://redituslabs.com/wp-content/uploads/2022/10/logo.webp
5-Point Admin
2021-01-08 18:49:00
2021-11-24 20:15:30
Clinical Molecular Laboratory Manager at Reditus Named 'Lab Hero'