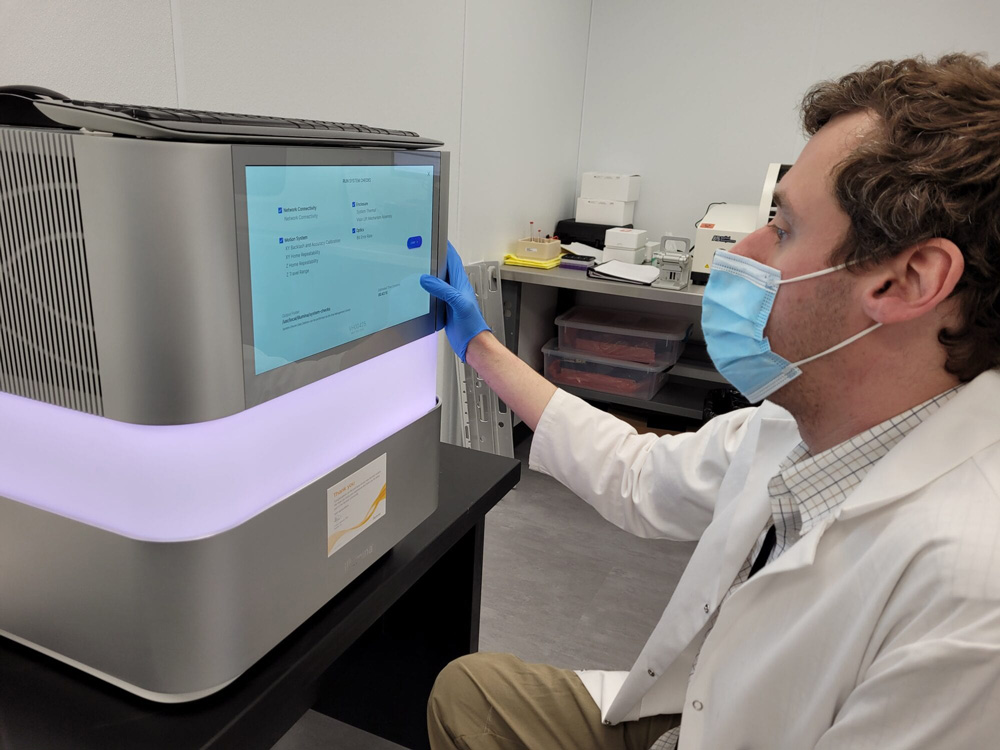 FOR IMMEDIATE RELEASE, JUNE 22
PEKIN, IL – Reditus Laboratories in Pekin has identified two additional cases of the B.1.617.2 variant, also known as the Indian double mutant variant, or the Delta variant.

The variant, first identified in India, is of concern because it carries 13 mutations and is believed to be more transmissible than previous strains of the virus. The variant, which has been found in several countries, was first confirmed in the United States in April and was first identified by Reditus in May when one case was discovered via sequencing.

During a sequencing run on June 17 at its lab in Pekin, Reditus tested 369 randomly selected positive COVID-19 samples. Among the variants identified were 181 of the B.1.1.7 lineage, better known as the UK (United Kingdom) variant; 151 of the P.1 (Brazilian) variant; and two of the B.1.617.2 (Indian double mutant or Delta) variant.
Variants are of concern because they are potentially more contagious and may have potential resistance to the vaccines.
"There is concern as to whether the vaccines are as effective against the Delta variant," said Reditus CEO Dr. Aaron Rossi.
"There is concern as to whether the vaccines are as effective against the Delta variant," said Reditus CEO Dr. Aaron Rossi.

About 95% of the 369 samples were collected in Illinois during the past two weeks, Rossi said. Of the two samples that included the Delta variant, one person lives in Central Illinois and one lives in Michigan, Rossi said.
Reditus tests nasal samples collected throughout the country for SARS-CoV-2 (COVID-19) using gold-standard PCR (polymerase chain reaction) testing. Reditus sequenced the 369 samples using the Illumina NextSeq, which the laboratory began using earlier this year.

Reditus sequencing data is shared with the Illinois Department of Public Health, the U.S. Centers for Disease Control and Prevention and GISAID, a global initiative that provides access to genomic data of influenza viruses and COVID-19, Rossi said.

Rossi said his goal in sharing the latest sequencing information is simply to keep the public aware of the spreading variants.
Contact: Paul Swiech, Reditus Laboratories
[email protected]
866-736-0002, ext. 941
###
Reditus Laboratories is a full-service laboratory company with a heavy focus on molecular diagnostics. Based in Pekin, Illinois, Reditus provides top-tier, accurate anatomical and clinical pathology services, including cytology, histology and molecular testing. Reditus is accredited by the College of American Pathologists (CAP) and is certified by the Clinical Laboratory Improvement Amendments (CLIA) program. Additional information is at www.redituslabs.com, as well as on Facebook at Reditus Laboratories and Twitter @ReditusLabs.
https://redituslabs.com/wp-content/uploads/2021/11/Illumina-sequencer-photo-small.jpg
750
1000
5-Point Admin
https://redituslabs.com/wp-content/uploads/2022/10/logo.webp
5-Point Admin
2021-06-24 19:41:00
2021-11-24 19:41:44
Additional Cases of Delta Variant Identified By Reditus